Regular price
Sale price
€531,00
Unit price
per
Ideal for roasting, braising, stewing and baking, from stovetop to oven and table
Crafted in tri-ply clad stainless steel: induction compatible, practical and super conductive
Hammered for increased strength and lasting beauty
Crowned with a silver plated finial in the shape of a garlic and pepper
Made in Italy
View full details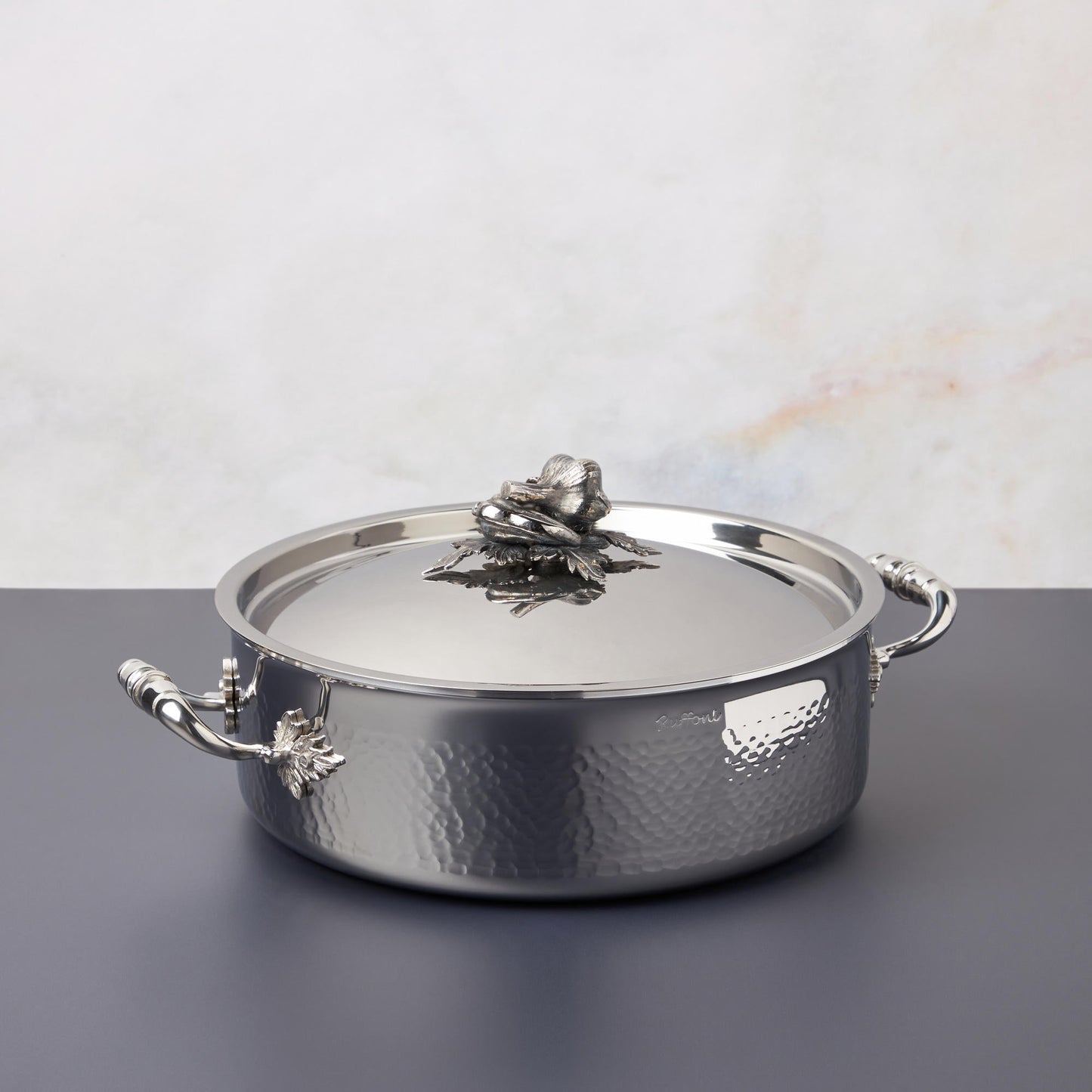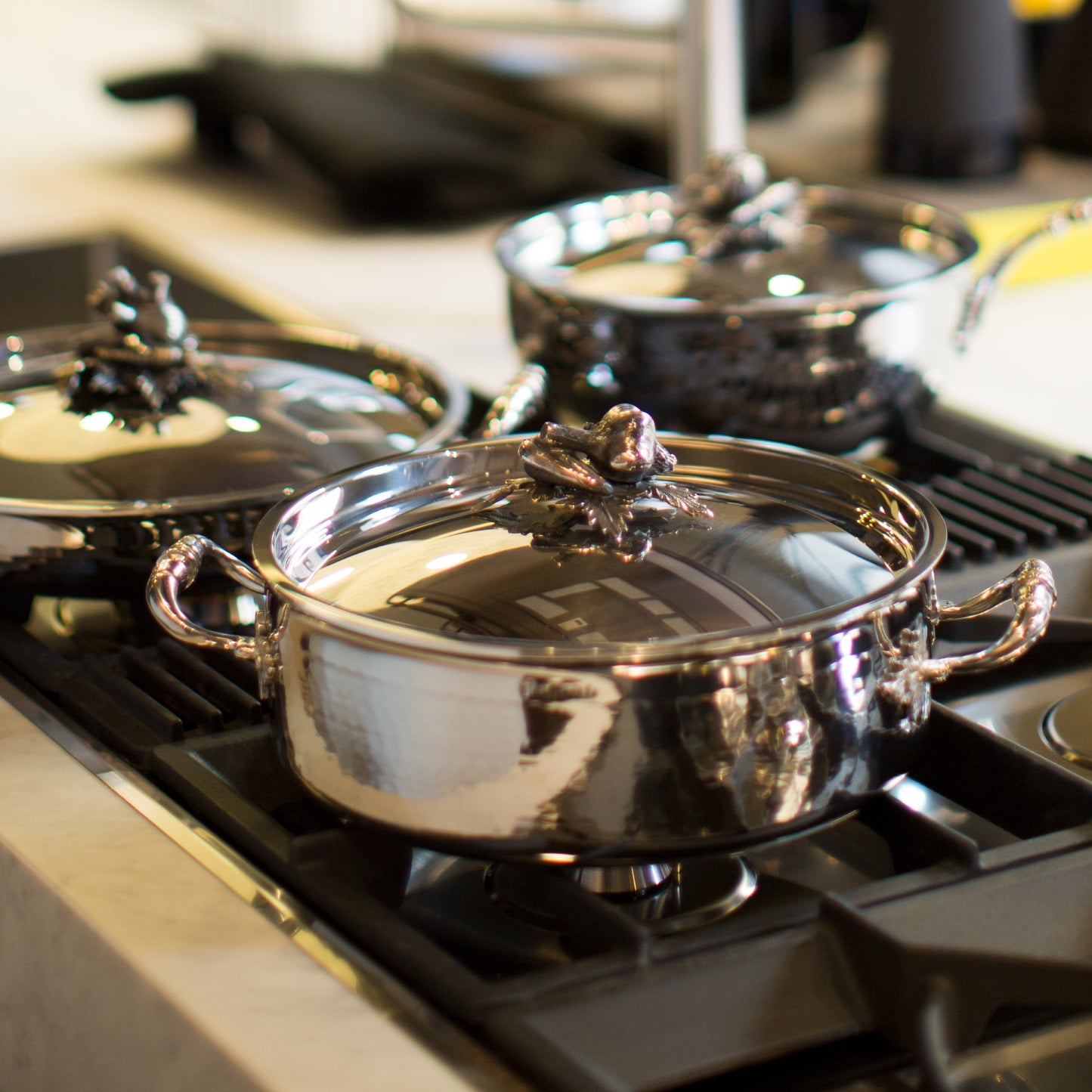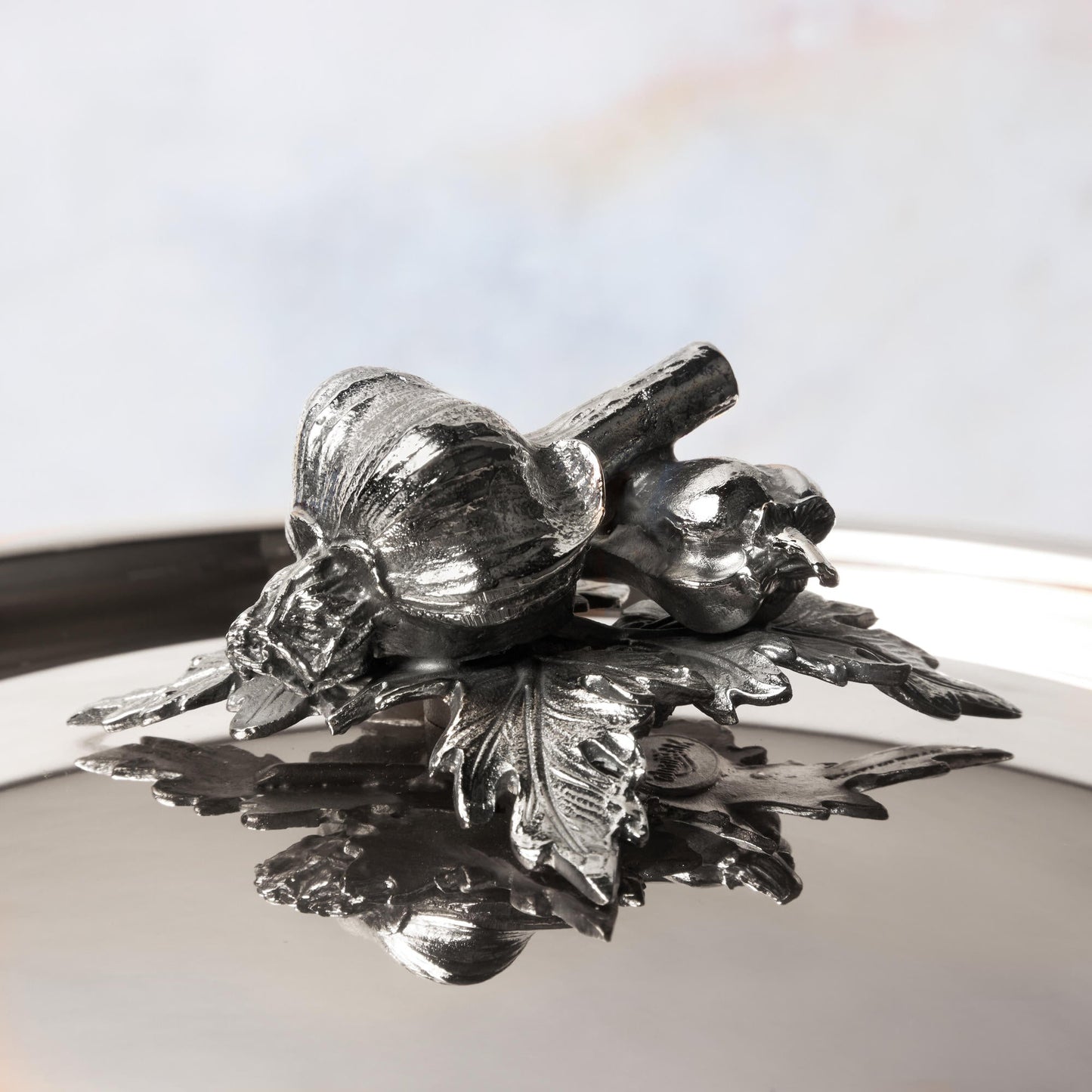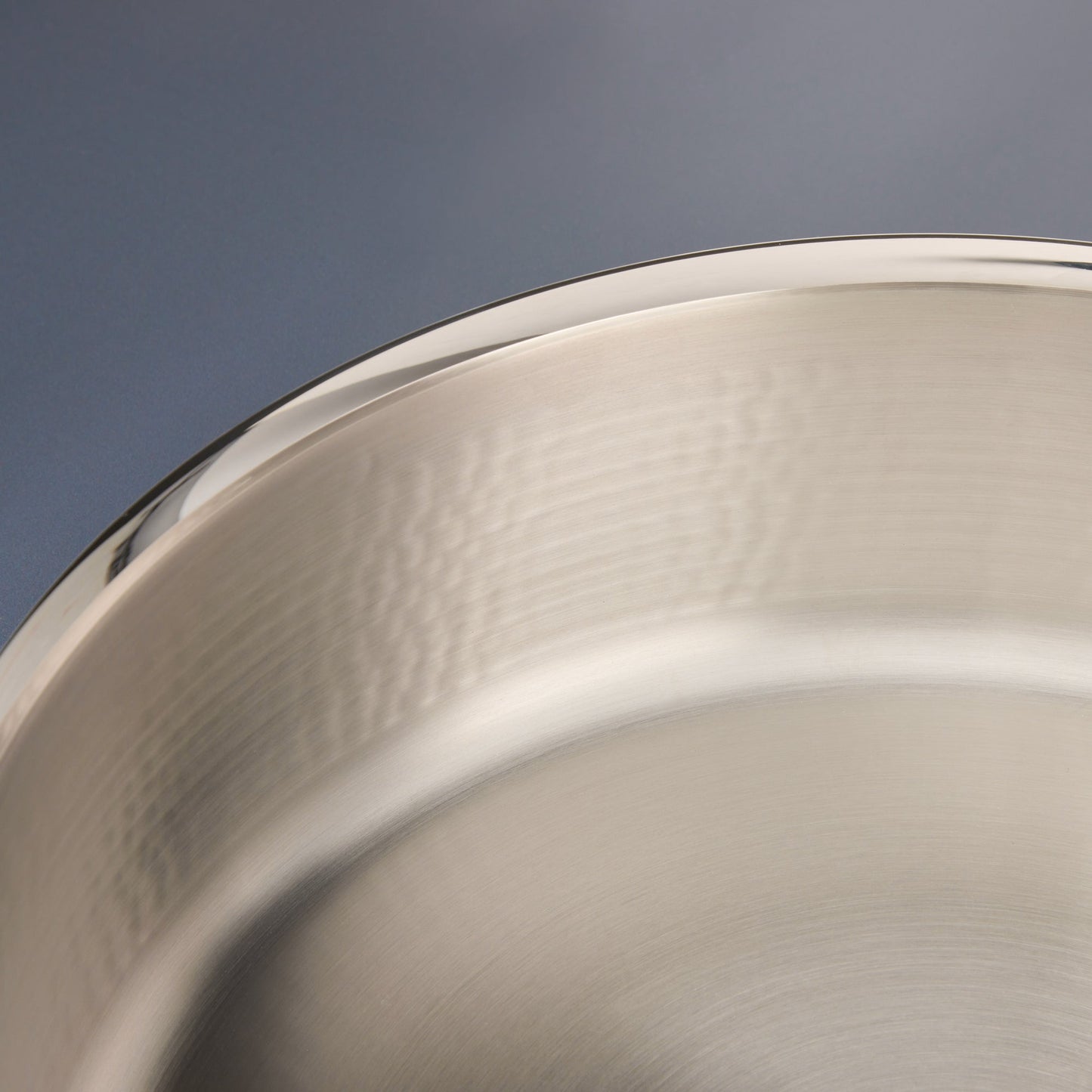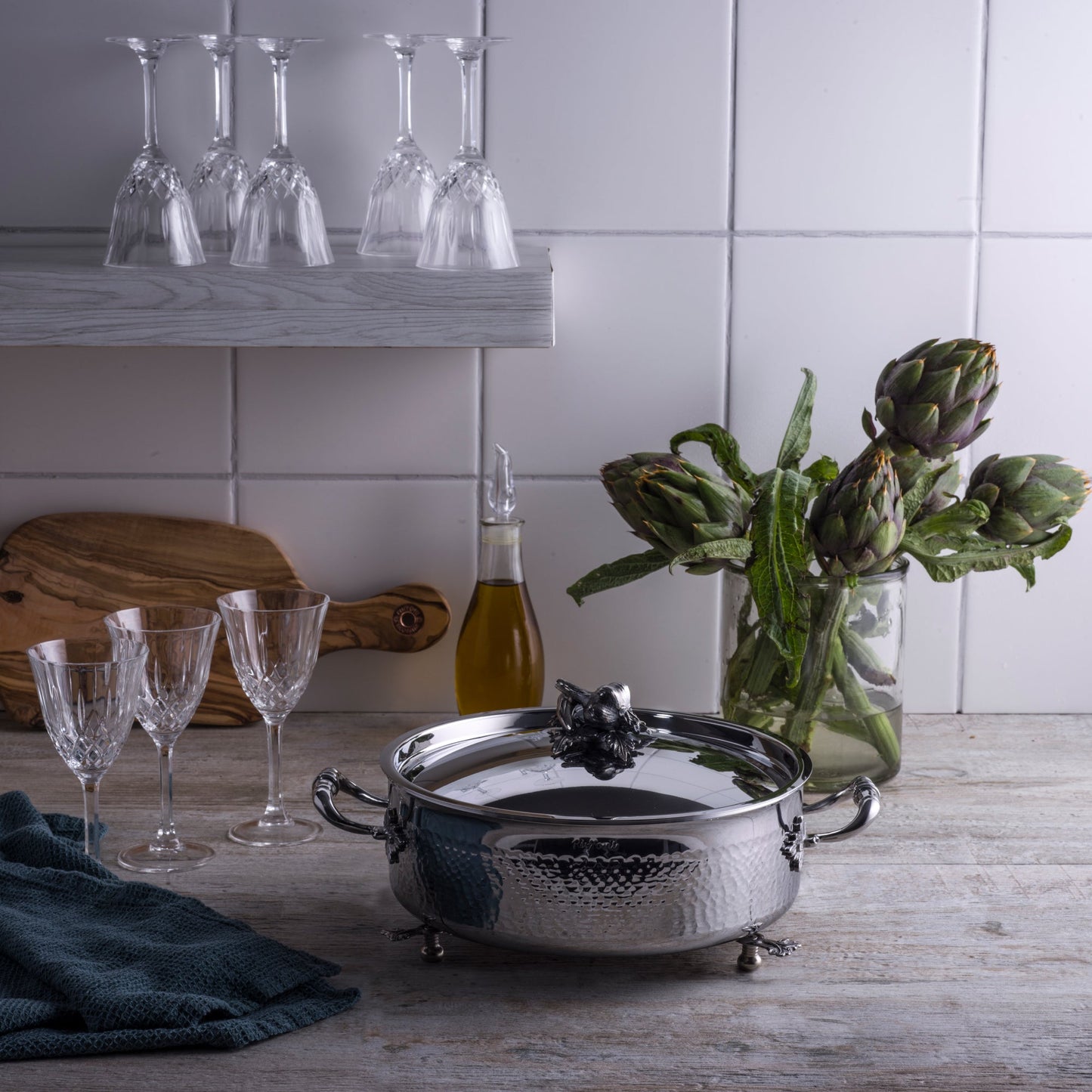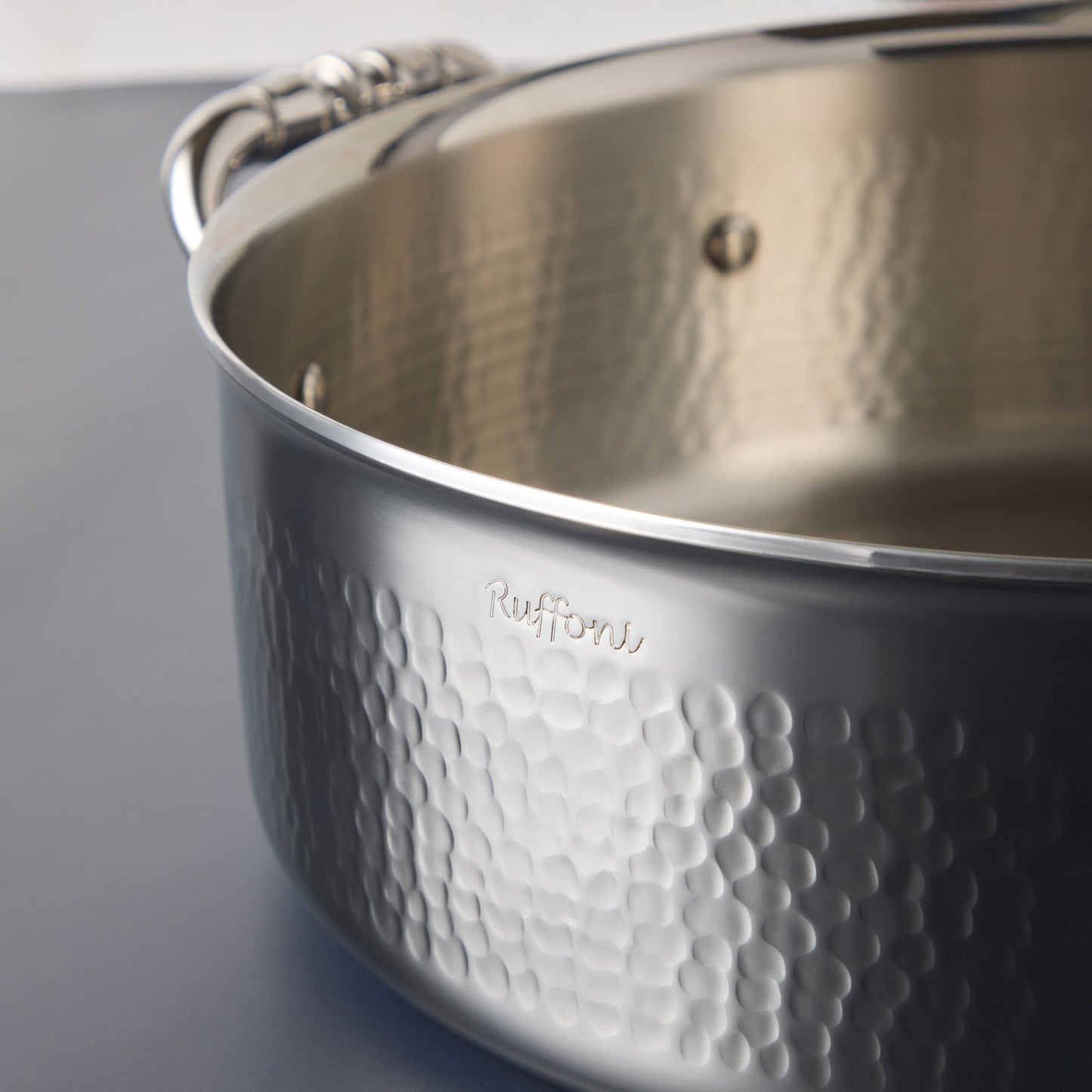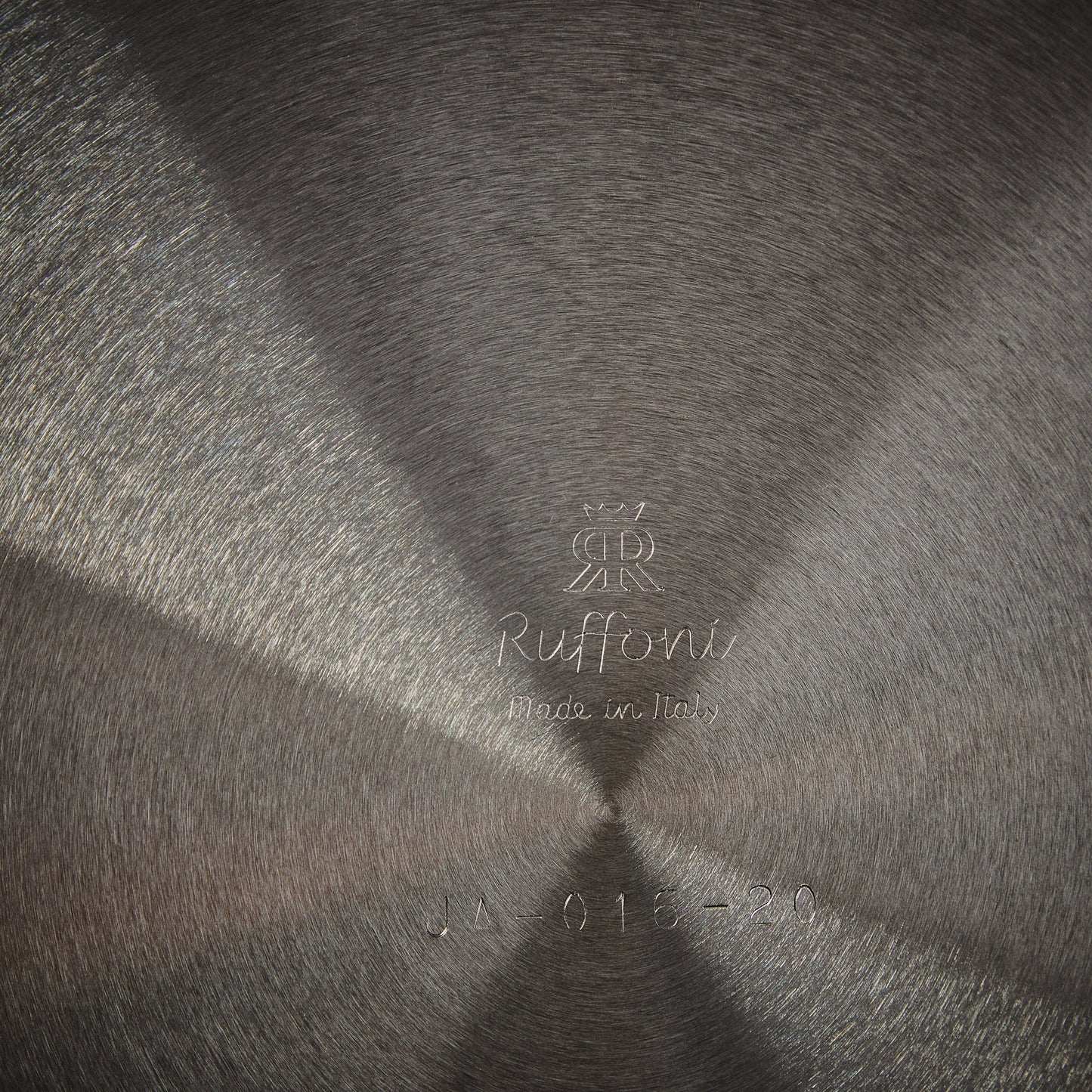 Learn more about this Ruffoni
Thanks to their wide bottom and generous sides, braisers are known to be one of the most versatile items in the kitchen. Our Opus Prima braiser is designed to start by searing and browning on the stovetop, then seamlessly transition to the oven to braise, reduce and gratin, then finally serve at the table. Use the lid to retain cooking liquid and soften tough meats, and lift it at the table for a reveal with the wow-factor.

Made with best-in-class clad stainless steel: a thick core of super conductive aluminum alloy guarantees great responsiveness, ensuring food will not burn or overcook. The inside is lined in brushed stainless steel, practical and easy to clean, whilst the external stainless steel layer is induction-ready and hammered by our master artisans to ensure lasting beauty. The stainless steel handles are decorated with delicate leaves and the lid is crowned by a garlic and pepper shaped knob, silver-plated by our partner silversmiths in Milan.

Induction compatible.
Made in Italy.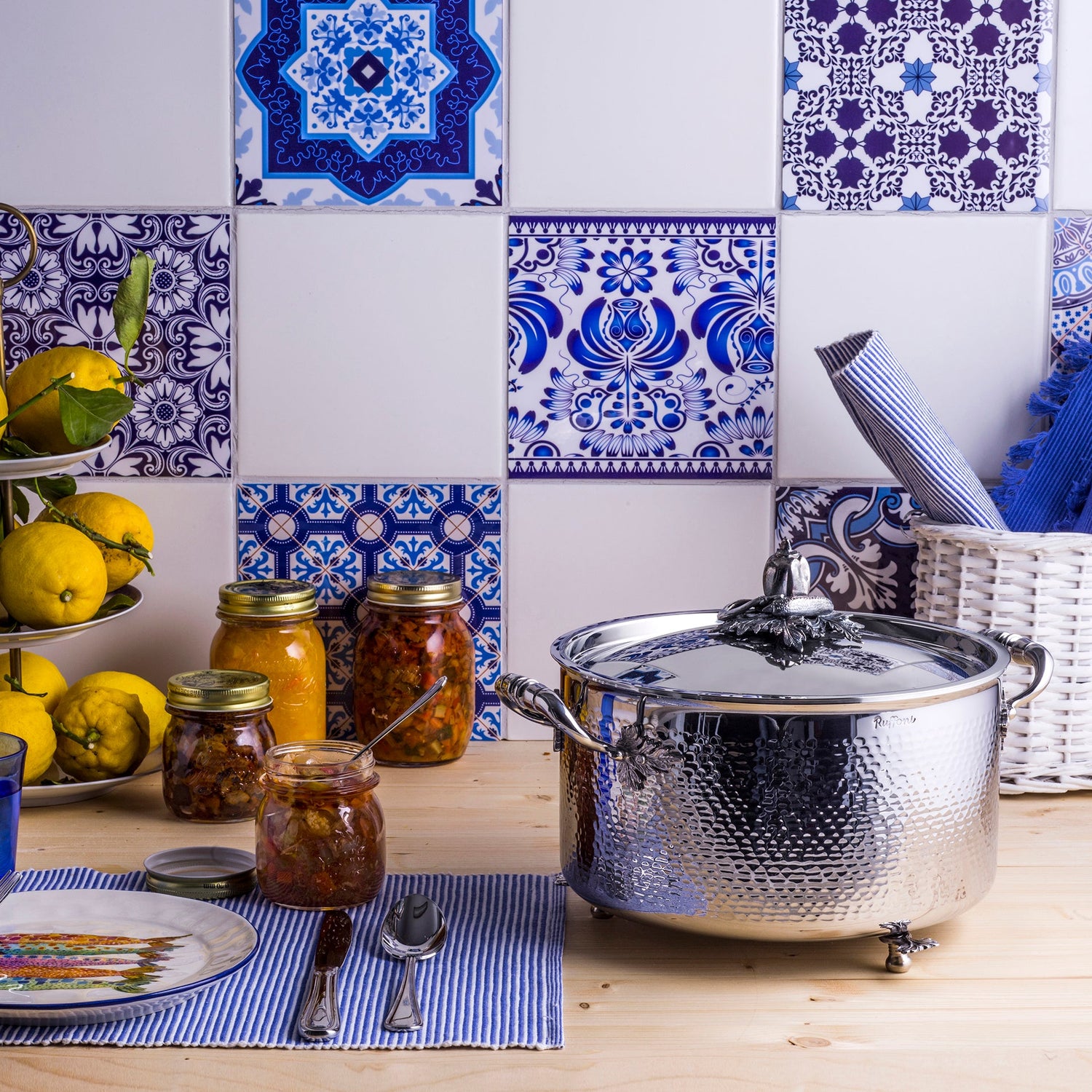 The Opus Prima collection
Prima, meaning "first" in Latin, is the first collection in the world to bring the traditional copper hammering to clad stainless steel – a material appreciated by chefs and home cooks for its fast and uniform heat distribution, and its practical, induction-suitable and easy-to-clean surface. In this Collection, functionality meets Italian flair – hammered by our master coppersmiths in true Ruffoni tradition and mirror polished, the Opus Prima collection features silver plated finials that celebrate our shared culinary history and traditions.

- Thick core of super conductive aluminum for optimal responsiveness: food will not burn or overcook
- Internally and externally coated in mirror-polished stainless steel: practical, scratch-resistant, easy-to-clean and induction-capable
- Hammered by our master coppersmiths to ensure lasting beauty
- Handles and lids are enriched with finials in exquisite shapes such as acorns, artichokes, vegetables and animals to bring warmth and elegance to any table
- Knobs are cast in solid bronze and silver plated by our partner silversmiths in Milan
- Suitable for all hob tops, including induction, and oven-safe up to 450°F
- Lifetime Warranty
- Made in Italy
Shop the Opus Prima collection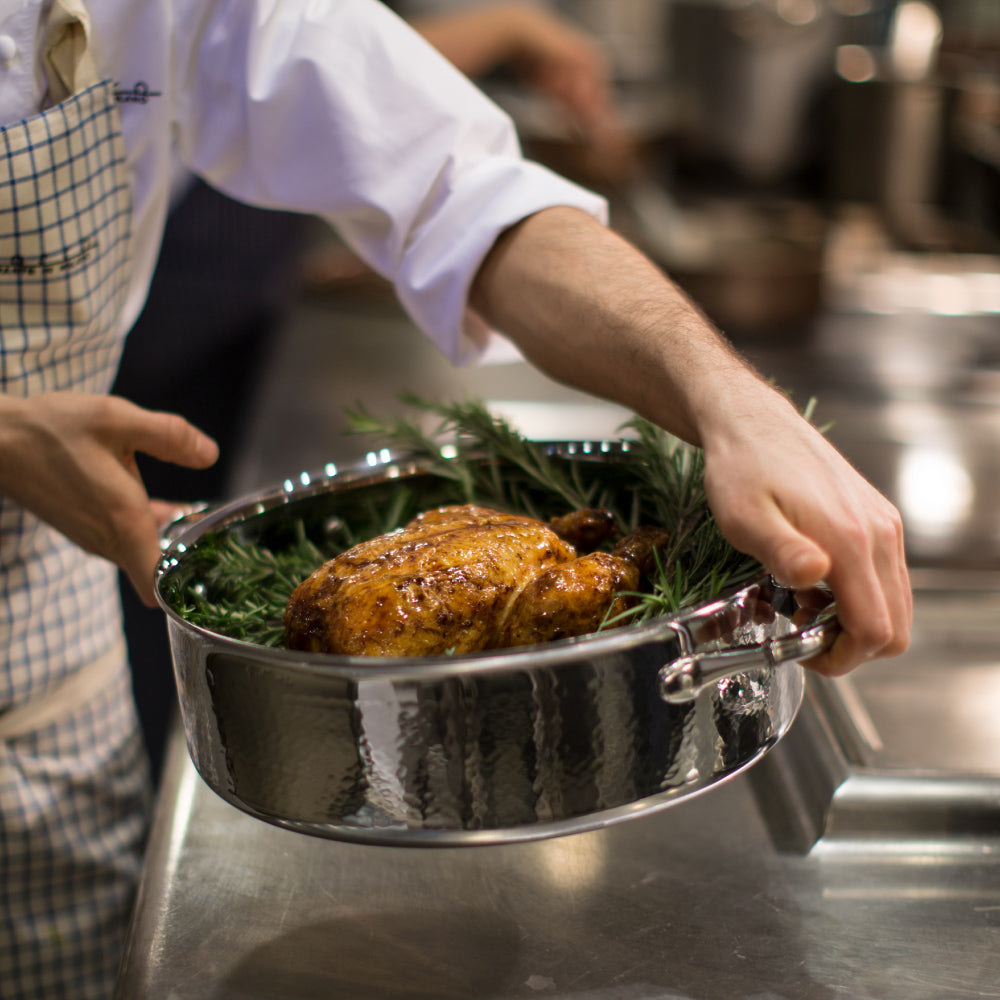 Getting the most out of your Ruffoni Braiser
Taller than a sauté pan but shorter than a stockpot, with a wide bottom and generous slides, the braiser can not only quickly brown meats and vegetables on the stovetop, achieving a perfect Maillard reaction, but also gently braise them in the oven, covered with the beautifully decorated lid to trap in heat and moisture.
Classic braised beef, Belgian beef carbonnade, coq au vin, but also ratatouille, veggies with tomato sauce, a large batch of delicious beef bolognese sauce... the amount of recipes possible with a braiser make it a real must-have for any kitchen.
Its generous size makes it perfect for feeding a large family and its timeless aura allows it to move elegantly from the kitchen to the table, letting you savor your food in style, while it's still piping hot.
Shop Braisers
Taking care of your Ruffoni the right way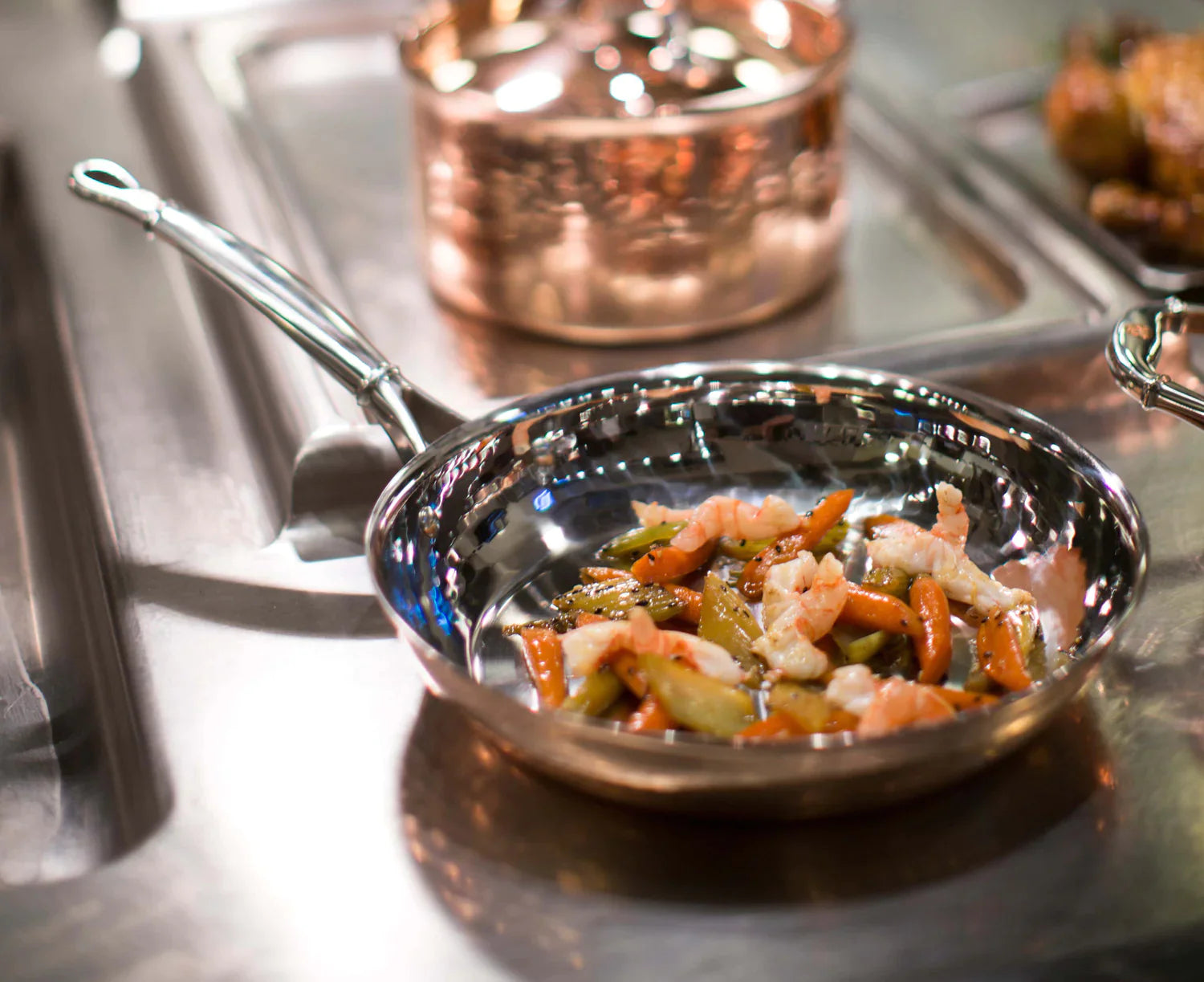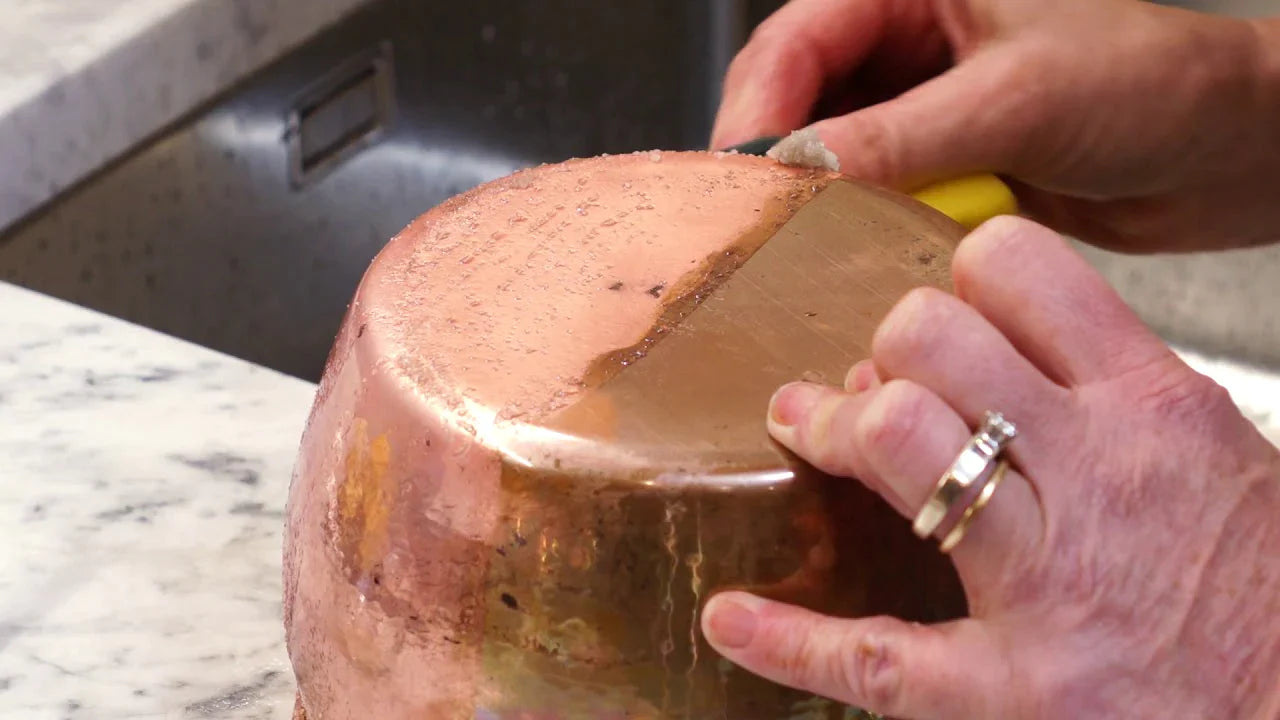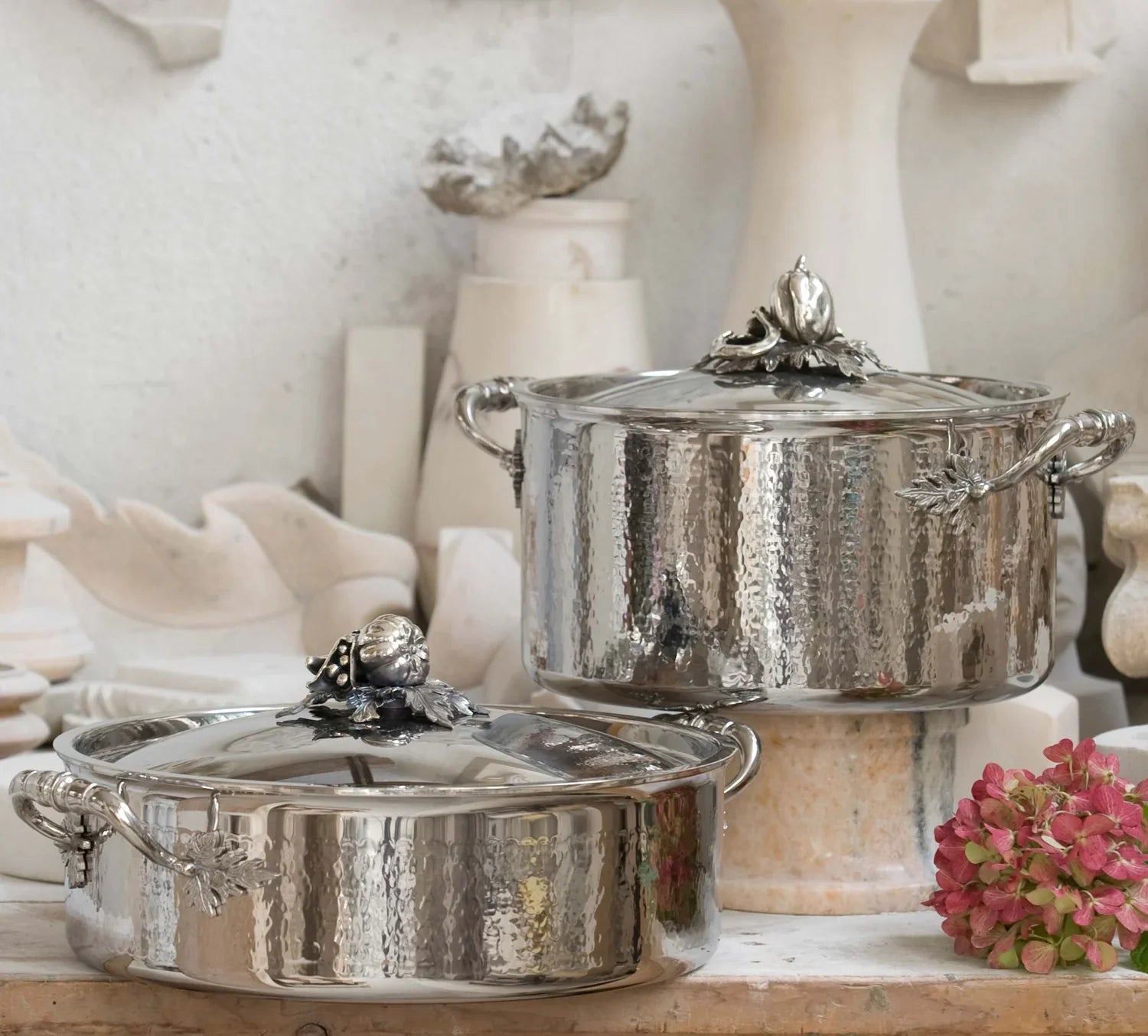 Cooking

Recommended for use on gas stovetops, open flames (wood, charcoal, barbecue) and in the oven - electric cooktops also possible. Use a burner that is similar in diameter to the cookware, never heat the pot empty and do not exceed 230 C (450 F). To avoid scratching or dulling the polished surface, do not use knives, sharp kitchen tools, corrosive detergents and metal scouring pads.
Washing and Polishing

Hand-wash with a soft sponge and mild detergent, and dry immediately with a soft cloth.With use, copper develops a rich patina over time that many love and cherish. To restore a polished shine, use a good copper polish (like Ruffoni Cleaner) or salt with lemon juice/vinegar.
Silver care

The silver-plated finial will naturally tarnish over time: use a silver-polishing cloth to restore its shine, or to polish more thoroughly remove from the lid by twisting the special screw - rotate the screw, not the finial, to prevent damage to the lid. Always hand-wash as dishwasher use would accelerate the silver tarnishing.